Understanding your hospital stay
Your health care team will explain why you're in the hospital and what needs to happen before you can go home or to another facility. Please note, visiting and bringing food to family may look different during the COVID-19 pandemic. Visit our COVID-19 page for more information. Here's some important information you need to know for your hospital stay.
Hospital routines and reminders
Your health care team can give you information about your hospital unit's routines (e.g., meal times, visitor guidelines, doctor visits to the unit, etc.). Feel free to ask if you're not sure.
Please be aware of the following policies that apply to all Northern Health facilities:
Scent-free: We're a scent-free zone – everyone who comes to Northern Health's facilities, sites or programs is asked not to use or bring in fragrant/scented products.
Smoke-free: All Northern Health facilities are smoke-free.
Visitors: We want to make family and visitors feel welcome in our facilities. For more information on visiting rules during the COVID-19 pandemic, talk to a member of your health care team or visit our respiratory illness pages.
Respectful: Workers, physicians, volunteers, patients and visitors have a right to a safe and respectful environment that is free from violence, aggression, and harassment.
Pet-friendly: Northern Health facilities will make every reasonable effort to facilitate and/or accommodate animal assisted therapy and pet visitation. Please contact a staff member if you would like to bring an animal into a facility. Some other patients may have pet allergies and we need to ensure that bringing pets does not pose a risk to them.
Hospital communication board
The communication board helps your care providers have a common understanding of your unique safety and care needs. It helps you to understand:
Your health care team members' names
The goals for each day of your hospital stay
Your treatments/tests/appointments
What health improvements you need to make before you can leave the hospital
What arrangements you'll need to make before leaving the hospital
The board is a way for you and your family and friends to communicate with your health care team - feel free to write on it! Your health care providers will write on it as well - you can help them decide what goes on the board.
You'll start to see the board used in hospitals across Northern Health at the beginning of 2021.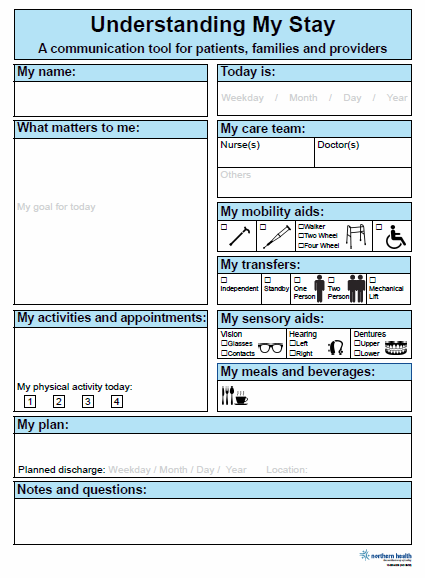 Personal ID to bring
You need to present two pieces of personal ID, one with a photograph and one with your mailing address. In addition to two pieces of personal ID, bring along any other health insurance ID card (e.g. extended health care) that you have. If your hospital admission is due to a work-related injury or illness, bring your WorkSafeBC claim number.
1. Bring one piece of primary ID: Showing your legal name and date of birth.
Some examples are:
BC drivers license
BC identification card
Canadian birth certificate
Canadian citizenship card
Permanent resident card
Passport
2. Bring another piece of secondary ID: Showing name, signature and/or photo.
Personal belongings to bring
Personal ID
Bring prescription medicine in original labelled containers
Dentures
Glasses
Hearing aids
For your personal care, pack basic toiletries (e.g. toothbrush, toothpaste, shampoo, hairbrush, razor)
Pajamas/nightgown
Bathrobe
Slippers
Personal belongings to leave at home
Don't bring valuables such as large sums of money, credit cards, electronics or jewelry (rings and watches that you normally wear should be left at home).
Arrange to pay for things, such as equipment, when you are getting ready to leave the hospital. For example, have someone bring your credit card or cheque book when they pick you up. If you rent a TV or phone, payment is due at connection time.
Northern Health cannot be held responsible for any lost or stolen items. In emergency situations, Northern Health hospitals can store some small valuables for a short time. For information, ask the Admitting department or a member of your health care team.
Clean your hands with good handwashing habits
Clean hands prevent the spread of germs
Wash your hands often, for at least 20 seconds at a time.
When washing isn't possible, rub hands with hand sanitizer for 20 seconds.
Sneeze and cough into your elbow or a tissue, not your hand.
Remind your visitors to clean their hands before and after they visit.
It's okay to remind members of your health care team to clean their hands before they care for you.
Ask family and friends not to visit you if they have a cold, the flu, a fever, sore throat, diarrhea, or any infectious illness. Get your flu shot each season (unless your health care provider recommends otherwise). Please discuss any concerns with your health care provider.
Read more about handwashing.
Smoking
All Northern Health facilities are smoke-free. Stop smoking services are available to help you quit smoking before and/or during your stay.
Hospital meals and food allergies
Refer to the Bringing Food to Family booklet. This booklet is a visitor's guide to bringing safe food to family members and for functions at a health care facility in Northern Health.
Good nutrition is an important part of your recovery. At most sites, patients are given a Patient Food Preference Questionnaire to better meet your food/beverage likes and dislikes.
If you or a loved one are receiving care in the hospital and are concerned about nutrition health, ask your doctor or nurse for a referral to see a dietitian. If you have food allergies let your nurse know as soon as you arrive.
Know your medications
Make sure you and your health care providers know all the medications you are taking
Keep an up-to-date list of the medications (prescription and non-prescription), vitamins and minerals, natural products, and traditional medicines you take. Bring your list with you each time you have a health care appointment.
Know what your medications are for, how to take them (e.g. with food), and for how long.
Understand why your prescriber has added, stopped, or changed a medication. 
Talk to your health care team if you're taking your medication differently than how it was prescribed.
Stay active
Stay active for your health and safety
Move to maintain your strength. Walk as often as you can! It keeps you strong. Every little bit of activity is helpful, even moving your arms and legs while sitting or lying down. Ask a member of your health care team how you can best stay active.  
Slow down and stay steady. Use supports such as a cane, walker, or crutches if needed. Be careful on stairs.
Look around to avoid obstacles. Wear glasses if you need them. Be careful if you see a "wet floor" sign. Avoid spills or clutter.
Wear footwear that fits well and has good traction. Indoor shoes with a low heel and rubber soles are best. Non-slip socks can help with traction when shoes are off.
Turn on the light if it's dark (e.g., when getting up at night).
Ask for help if needed (e.g., to use the washroom). 
Safety starts with good communication
Ask about your health care plan

Find out what you can do to feel better and improve your health.   
Ask for more information if you don't understand.

Listen carefully

Learn about your health condition and treatments.
Don't be afraid or embarrassed to ask for more information, even if you think it's basic.   

Talk about your needs and concerns with your health care team 

Make sure your health care team has up-to-date information about your:

allergies
medications
changes in your physical condition or mood
It's okay to ask questions. Speak up if you have concerns. If something doesn't seem right, don't just think it, say it. 
You may want to involve your family and friends. Interpreters or other support persons are available to help if needed.