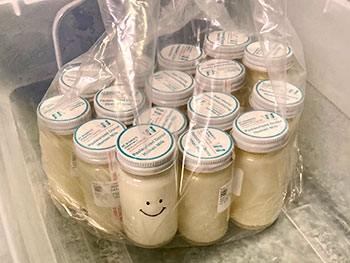 The optimal way for a parent to feed their baby is with their own human milk. If you need to give your baby something other than your own milk, pasteurized donor human milk from a certified human milk bank may be an option. Since certified milk banks have a small supply of milk, it is usually only given by prescription to premature, very ill, or high-risk babies who are in a Neonatal Intensive Care Unit (NICU).
Certified Milk Bank in BC
BC has only one certified human milk bank located at BC Women's Hospital and Health Centre in Vancouver. For more information: BC Women's Provincial Milk Bank - BC Women's Hospital and Health Centre, Provincial Health Services Authority (PHSA).
Human milk donations are always needed. Interested in becoming a human milk donor? Contact BC Women's Provincial Milk Bank by phone at 1-604-875-3743 or email at mbscreening@cw.bc.ca. Potential donors can start freezing their milk as they start the screening process.
Informal (peer-to-peer) milk sharing (unpasteurized donor human milk)
Pasteurized donor human milk is not available in all northern BC communities. Some parents may be interested in providing their infants unpasteurized donor human milk obtained from family, friends, or other sources (e.g., online). This is referred to as informal milk sharing, and may involve peer-to-peer sharing or the purchasing of unpasteurized donor human milk from strangers. Informal milk sharing may carry risks.
Learn more to make an informed decision: Information for families: Informal (peer-to-peer) human milk sharing (PDF) - Perinatal Services BC.
Featured resources
Featured NH Stories
For more information
Contact BC Women's Provincial Milk Bank by phone at 1-604-875-3743 or email at mbscreening@cw.bc.ca
Approved donors can call the University Hospital of Northern British Columbia NICU Milk Depot at 250-565-2000 to arrange for milk drop-off
University Hospital of Northern British Columbia
Email: NHBreastfeeding@northernhealth.ca
Phone: 250-565-2000 (*Please call before coming to the hospital*)
1475 Edmonton Ave
Parkwood Place, Prince George
Pay parking available on site