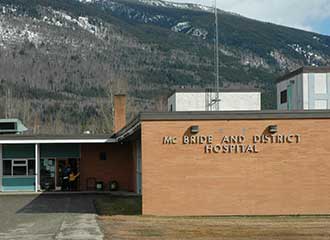 The McBride & District Hospital is a full-service hospital:
24-hour emergency room
Outpatient services
3 acute-care beds
1 respite bed / 1 Palliative Care room
8 long-term-care beds
Full-time laboratory services
Full-time X-ray services
Spiritual room
Hospital staff:
Two full time physicians
A full contingent of nursing staff including RN, LPN, care aides and bath aide
Full support staff - dietary, housekeeping, laundry and maintenance
Other programs at the facility or in the adjoining Health Centre:
Medical clinic providing general medical appointments with a focus on preventative health and developing a primary care home for patients
Mental health and Substance Use services
Primary Care services - wound care, immunizations, pre-natal and much more
Visiting specialist clinics  (orthopedics and renal)
Well woman clinics
Foot care clinics (limited)
Community paramedic services
Patient/physician videoconferencing consultations
Alternate provider room - private physiotherapist and massage therapist
The Northern Health Connections bus stops in McBride to provide patient/client transportation to Valemount, Kamloops, Prince George, and Vancouver for medical appointments and health care services not available locally.
The B.C. Ambulance Service has a station in McBride, and 9-1-1 service is available throughout the valley.
Valemount and McBride work closely together to support the clients throughout the Valley.