The Spirit of Healthy Kids Regional Program is a partnership between Northern Health, the Prince George Cougars and the Spirit of the North Health Care Foundation. Using local hockey players as role models, the program teaches elementary school children: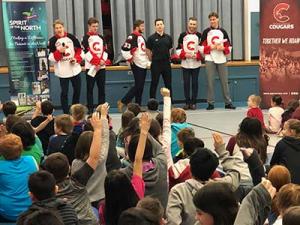 The importance of reading and physical activity
Healthy and philanthropic behaviours such as being kind, and helping friends, family, and the community
The program's benefits include healthier students, plus a chance to win grants for your school. And after all, healthier students are better learners!
For more information on the program, visit the Prince George Cougars website.
To help make your application as strong as possible, consider these points when planning:
Does the plan address one of the program focus areas?

Reading
Physical activity
Healthy eating
Philanthropy
Smoke and vape prevention
Injury prevention
Dental health
Mental health and wellness
Prevention of substance harms

Does the plan address a problem in your school?
Has your plan been thoroughly thought through? Is it complete?
Will there be a lasting impact for future students?
Are there partners outside the school that could help or support your plan?
Can the success of your plan be measured?
Are other resources needed to support your plan and if so, are they readily available?
The more these points are considered, the better the chance of your project has being accepted to participate in the challenge!
Must be within the Northern Health Region
Must be an elementary school (Kindergarten – Grade 7)
Must address program focus area
Do I need a project partner to apply?
Partnerships aren't required, but preference will be given to projects that include partnerships and relationship-building within the community. When listing partners on the application, they must be from outside of the applying organization and each partner's roles and responsibilities in the project should be clearly stated. Letters of support from project partners should be included with the application.
For example, if a school is listing their local municipality as a partner, it would be ideal to have a letter of support from the municipality declaring their support for the project.
How detailed should my application be?
Application to the Spirit of Healthy Kids Regional Program is a competitive process. When reviewing your application, the screening committee should be able to easily understand the goals of the project and the plans that will be put in place to achieve them. The more details included in your application, the better. Ensure that the project budget is clear and includes all costs that will be associated with the project activities.
I missed the application deadline. Can I still apply?
To be fair to all applicants, we cannot accept applications after the deadline (October 31, 2019). If you missed the deadline, we encourage you to apply for the program next year, or to complete the challenge and submit to win a $500 draw prize.