Northern clinical simulation is a partnership between Northern Health, the School of Nursing at the University of Northern British Columbia, the College of New Caledonia, Coast Mountain College and the Northern Medical Program. Our goal is to support educators with the development and integration of clinical simulation into health care education.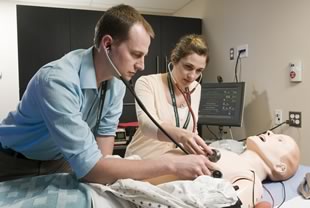 What is clinical simulation?
Clinical simulation uses life-sized, anatomically correct human models (see chart below) to provide realistic training for student nurses, staff nurses, medical students, physicians and other health care professionals.
The simulators can be used with real medical equipment, allowing practice with burns, labour and delivery, resuscitation and advanced life support, heart attacks, and more - all without risk to patients.
Who can use the simulators?
Our centres, simulators, task trainers, and staff are available to non-Northern Health users for an hourly fee.
For more information contact:
Michael Lundin
Regional Manager, Clinical Simulation Education
& Chair of BC Simulation Network (BCSN)
Michael.Lundin@northernhealth.ca or SimulationTeam@northernhealth.ca
Where is clinical simulation offered?
What's available at the four centres?
As well as the nine simulators listed above, each of our four centres promotes educational opportunities with
Interdisciplinary team training
Emergency cardiac patient assessment and treatment
Critical thinking
Team interaction and communication
Adherence to algorithms
Teaching and testing of advanced cardiac life support guidelines
Patient assessment and management
Teaching and testing of neonatal resuscitation program guidelines
PALS (Pediatric Advanced Life Support)
The four centres also have audiovisual equipment for recording sessions, facilitating debriefing. Most quality sessions include items such as confederates, task trainers, videos, and video debriefing.
Our experienced staff have assisted with hundreds of simulation sessions and can help develop, design, and program custom scenarios to meet your educational needs.
Task trainers
Task trainers are lifelike models of body parts (such as an arm, pelvis, or chest). They're used for practicing specific medical procedures.
They're available to any centre. Most are in Prince George, but they can be shipped/used for mobile/in situ.
Standard Venipuncture Arm
Lumbar Puncture and Epidural Trainer
Lumbar Puncture Baby
Ultrasound Central Venous Catheter Insertion Simulator
Pericardiocentesis Training Model
Nita Newborn
Laerdal® Airway Management Trainer
Perineal Repair Trainer
FemoraLineMan System
CentraLine Man System
Chester Chest™ With New Advanced Arm
Neonatal Intubation Trainer
Vascular Access - Peter PICC Line™