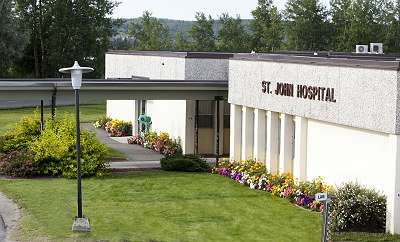 St. John Hospital is a 24 acute-care bed facility. The Hospital serves the communities of Vanderhoof and the Saik'uz First Nation, as well as acting as a referral centre for the surrounding communities of Burns Lake, Fort St James and Fraser Lake.
The services of St John Hospital include:
24/7Emergency department
2 outpatient bays
Labour and delivery with Cesarean Section capabilities.
Diagnostic Imaging, including ultrasound and fluoroscopy
Lab including blood transfusion services
24/7 OR offering orthopedic day surgery, plastics, dental, ENT, endoscopy, and general surgeries
Inpatient occupational therapy and physiotherapy
Dietician
Teaching facility for the University of Northern British Columbia
Palliative Care
Oncology Clinic
Community Services include:
Primary Care Nursing and Home Support
Diabetic counseling
Cardiac Rehab
Mental Health and Substance Use
Dietician
Occupational Therapy
Outreach clinics to surrounding communities
BC Ambulance Service
53 bed residential are facility attached to the hospital
Patients requiring further care are referred to the University Hospital of Northern BC in Prince George.