NH Tracks shows where your family member, friend or loved one is during their surgery – from the time they check in for surgery until they are discharged to go home or to the inpatient unit.
The following hospitals currently use NH Tracks: UHNBC (Prince George), GR Baker Memorial Hospital (Quesnel), St John Hospital (Vanderhoof), Bulkley Valley District Hospital (Smithers) Dawson Creek and District Hospital (Dawson Creek). Other surgery sites for NH will be added in time.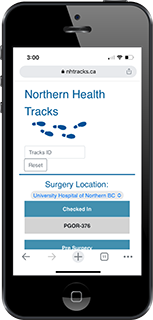 Benefits of NH Tracks:
Wait for your family member, friend or loved one from any location

NH Tracks lets you to replace the hospital waiting room with a coffee shop, living room or anywhere you want to wait in comfort

Patient updates are live – if your loved one moves from surgery to recovery, the website will be updated when they move
Return to the hospital when you see your loved one is nearing the end of their surgical journey
NH Tracks keeps families updated and reduces anxiety
Patients get to choose who they want to track their surgery journey by sharing a unique patient code with any family or friends who may want it.
How does it work for patients in participating hospitals?
Pre-surgical screening staff are providing patients with their unique code – called the Tracks ID – during the "What to Expect" part of the pre-surgical Virtual Visit.

Patients are asked to have a pen and paper/device ready to take any notes about their surgery and to write down their unique Tracks ID for NH Tracks.
If you forget to ask during your virtual visit, simply ask for it when you check in at surgery and you will receive a card with your number. Give the card to the person who dropped you off, or text it to a family member who may need it before you go into surgery.

Day surgery / recovery staff are providing the number at the time patient comes in for surgery for emergent cases.
Families or friends can look for their patient's Tracks ID at NHTracks.ca anytime from anywhere.

No app needed! NH Tracks is mobile friendly and works on Smartphones, tablets and computers.
How to use:
NH Tracks uses a unique patient code called Tracks ID. Give the Tracks ID to your family so they can follow your progress. Please contact the hospital surgery booking office if you would like your Tracks ID.
Click below to go to the NH Tracks mobile-friendly website, or scan the QR code.
More information
Use NH Tracks on your desktop computer, tablet or mobile device
NH Tracks is mobile-friendly and can be accessed from your desktop computer, tablet or smartphone. Just go to www.nhtracks.ca.
Viewing NH Tracks in the hospitals
What if I want to wait in the hospital waiting room? NH Tracks is the same information on the hospital tracking boards. Simply look for your patient's Tracks ID and track their journey while you wait in the hospital. Where are the NH Tracks boards located? Each hospital is different. Most have one located in waiting rooms, and one in the cafeteria or another common area.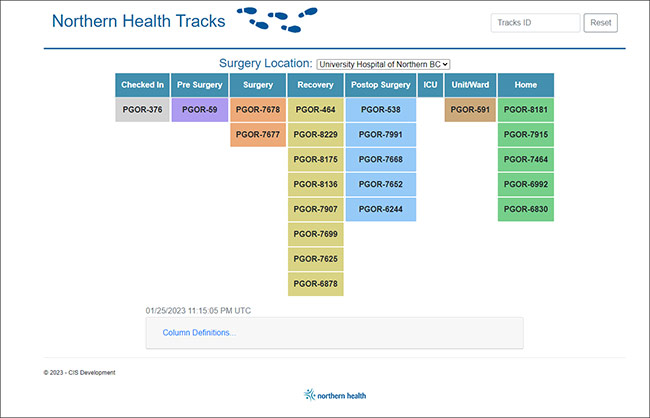 Frequently Asked Questions (FAQs)
What do the letters and numbers in my Tracks ID mean?
The letters are based on your hospital location (for example, PRG for Prince George) and the numbers are randomly generated.  This is not your Personal Health Number (PHN). For security and privacy reasons, it is a randomly generated number that identifies you during surgery and will be different each time you have a procedure at the hospital. Only hospital staff, you and the people you share the Tracks ID with will know this is you.
When will the Tracks ID appear on NH Tracks?
Your Tracks ID will only appear on the board after you're registered at the hospital.
What do each of the stages/locations on NH Tracks mean?  
Checked In: Patient has arrived at the hospital and checked in.
Pre Surgery: Patient has completed the Pre Surgery assessment and is waiting for surgery.
Surgery: Patient is in Surgery.
Recovery: Patients surgery has been completed and is starting to wake.
Postop Surgery: Patient is awake, continues to be monitored and getting ready for transfer or discharge.
ICU: Patient is now in their room in the Intensive Care Unit.
Unit/Ward: Patient is now in their room.
Home: Patient has been discharged from the hospital.