During the COVID-19 pandemic, it's important to keep well and stay connected in our communities.
Measures are in place that might be impacting our ability to stay well and feel connected to our families, friends, and communities. This campaign encourages actions to help counteract these impacts.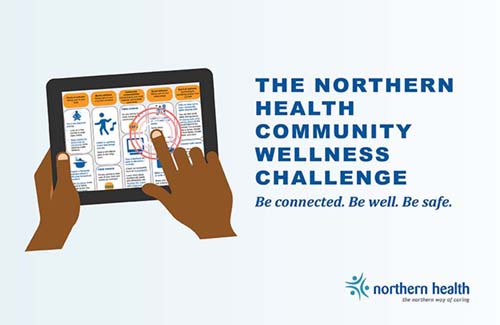 The activity card below shares ideas on how to take care of your physical, mental, social, and spiritual health, and more! We invite you to download and share across your networks.
How to participate in the Northern Health Community Wellness Challenge:
View and/or download the activity card.
Complete an activity in each column over the week (five activities) – you can do the activities on your own or include your kids, family, or other household members.
Consider letting others know about the challenge if you think they might also enjoy participating.
Enter to win a prize!
Winners will receive a $100 gift certificate to a local business of their choice that provides products/services that contribute to physical, mental, social, or spiritual health.
Three prizes will be drawn each week over three weeks. The weekly prizes will be drawn from participants in each of the three Northern BC areas: the Northwest, Northeast, and Northern Interior.
To enter one of the weekly prize draws:
Participate in the challenge as described above
Share a photo and/or a comment of an activity that you did

Share your photo and/or comment on your Northern Health Community Group on Facebook – be sure to watch for and post or comment only on the post in each group where entries are accepted, or
Send your photo and/or comment by email to healthpromotions@northernhealth.ca – be sure to include the community you live in so we know what regional prize draw to enter you in.
Each week we will post in each of the Northern Health Community Groups on Facebook – if you choose to enter the prize draw on Facebook, you must do so as a comment on these posts only. Find a Northern Health Community Facebook Group.
Prizes will be drawn on June 15, 2020; June 22, 2020; and June 29, 2020. Winners will be announced shortly afterwards.
Read the challenge rules (the "fine print") here.
Campaign materials for download