After the loss of your baby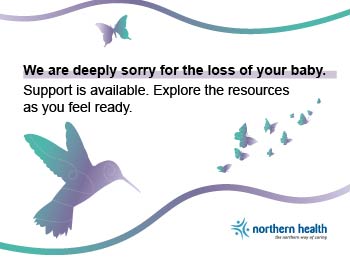 We are deeply sorry for the loss of your baby. You don't have to walk this path alone.
Support is available for you during this very difficult time. Explore the resources below and on this page as you feel ready:
For more information about services and support in your community, contact your local health unit.
Local grief support in Northern BC
If you're aware of local grief support services available in your community that are not listed here, or if any of the information is incorrect, email us at HealthyStart@northernhealth.ca.
Dawson Creek
Fort St. John
Prince George
Prince Rupert
Quesnel
Smithers
Terrace
Grief and loss support in BC and Canada
BC Bereavement Helpline
BC Women's perinatal loss support group
Canuck Place Children's Hospice
Hope for Wellness Helpline
Kids Grief - Canadian Virtual Hospice
Pregnancy, Infant, and Child Loss Support Centre
Featured resources
Featured NH Stories
For more information