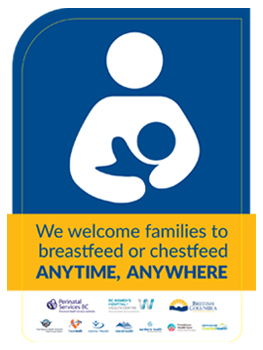 Northern Health is committed to supporting breastfeeding-friendly spaces across Northern BC.
We encourage businesses and organizations to prominently display the provincial breastfeeding decal (PDF, shown to the right) to show your commitment to support breastfeeding-friendly spaces.
We also encourage you to share this tip sheet with your team members: Make breastfeeding your business: Welcome families to breastfeed any time, anywhere (PDF) – Perinatal Services BC (PSBC).
Request your decal online from Northern Health.
Why support breastfeeding-friendly spaces?
What your organization can do
Some families have experienced discrimination when breastfeeding in public.
By displaying the provincial breastfeeding decal on your organization's window or glass door, you're showing a welcoming attitude and support for breastfeeding.
If you request a decal from this webpage, your location will be featured on Northern Health's list of breastfeeding-friendly spaces in Northern BC.
This list is promoted through Northern Health social media, helping to make your organization a destination for families today and into the future.
Breastfeeding-friendly spaces in Northern BC
---
Featured resources
Featured NH Stories
For more information