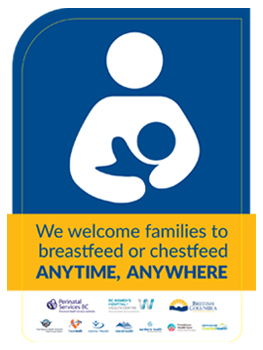 Northern Health is committed to supporting breastfeeding*-friendly spaces across Northern BC. This includes public spaces, workplaces, businesses, and organizations.
We encourage businesses and organizations to prominently display the provincial breastfeeding/chestfeeding decal (PDF, shown to the right) to show your commitment to support breastfeeding-friendly spaces.
Request your decal online from Northern Health.
*Note: We use the term breastfeeding. Some parents may prefer nursing, chestfeeding, or human milk feeding.
Why support breastfeeding-friendly spaces?
Parents need to be able to respond to their children's needs, any time, anywhere.
Appropriate spaces for breastfeeding support families to actively participate in their communities. This is important for the well-being of children, parents, families, and communities.
Breastfeeding is a human right that is protected by the British Columbia Human Rights Code (PDF). It is discriminatory to ask a person to stop breastfeeding, cover up, or move somewhere else.
Employers are expected to take reasonable steps to accommodate the breastfeeding needs of their employees, including pumping milk while at work.
What your organization can do
Featured resources
Featured NH Stories
For more information