HealthElife gives you 24/7 secure online access to review select services that have been scheduled in the hospital setting and review your hospital digital health information from any computer or smartphone. You can also access the information and services of any adult or elderly family member you may be supporting in care.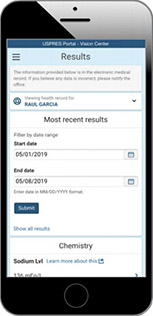 HealthElife lets you manage your care from anywhere
View your lab results, including most COVID-19 tests
View your x-ray, ultrasound and other medical imaging reports
View scheduled hospital lab and medical imaging appointments, with more appointment types coming soon
Check in online for walk-in lab and other outpatient services
Share your health information
Book lab appointments at select medical labs
How to use
Already have an account? Access the HealthElife website.
Need to set up your account? Two steps are required:
1. Get your unique PIN
If you've recently received Northern Health services (e.g., lab tests), we might have already given you a HealthElife PIN
If you don't have a PIN yet, you need to verify your identification. You can do this by either:

Going to any Northern Health registration desk; see locations and contact information.
By calling 1-833-933-5373 an agent will help you get your PIN and guide you through a virtual session to verify your ID. You will need a device with a camera, microphone, and speaker capable of video calls. Agents are available Monday to Friday, 8:30 am to 4:30 pm PST (excluding statutory holidays).
Whichever method you choose, please have your government issued ID ready, including your personal health number. Examples are:

BC Services Card or
Combined BC driver's license and BC Services Card.
2. Activate your account
Your unique PIN and registration information must match what's in our system.
If you have trouble, call 1-877-767-1046. If the service line can't solve the problem, book a virtual session to submit a service ticket to Northern Health.