Who are we?
Where we live, learn, work and play impacts our health. Healthy communities are the places where multiple sectors collaborate to improve the conditions - like transportation, housing, food, the environment, and mental health - that influence our health and well-being. They are places that make it easier to make healthy choices.
Local governments play a key role in developing healthy communities. However, they cannot do it alone. The Healthy Communities team consists of three Advisors, each of whom has a regional area in which they work (Northwest, Northeast, Northern Interior).
This team supports community health partners, including local governments, community organizations and health authority members, as they undertake this important work. This is the healthy communities approach, and it is connected to a provincial strategy and accountable to the Ministry of Health.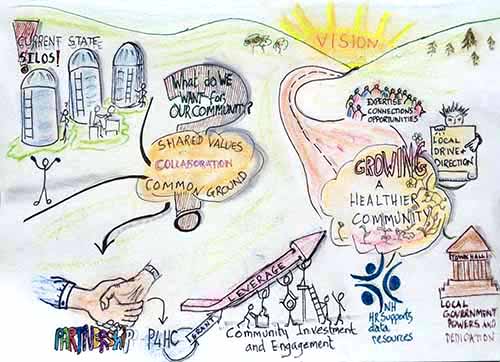 How we do this:
We facilitate. We are process experts. We know how to bring groups together to have meaningful conversations. Involving us means that community members can focus on generating ideas, building connections and creating action plans.
We connect. We build bridges between partners and stakeholders, connecting them with the knowledge, experience and relationships they need within Northern Health, and the northern region more broadly.
We fund. We support the funding of healthy community projects, and we connect stakeholders and partners to a wide range of other funding opportunities.
Healthy public policy (HPP)
Healthy public policy (HPP) is one of five pillars of the Healthy Communities Approach. This series of strategies builds on a community's existing capacity to improve community health and well-being, focusing on ways communities can make it easier for people to make healthier choices. 
Healthy public policy improves:
Housing
Living conditions (education, nutrition, child care, transportation)
Livelihoods
Social and health services
What is the role of local governments in HPP? 
Local governments make important transportation, community and recreation decisions which promote and protect community health and well-being. Free access to public leisure centres, connecting trail networks and provision and/or expansion of public parks are great examples of local HPP.
How are HPP and equity connected?
The World Health Organization defines equity as "the absence of avoidable, unfair, or remediable differences among groups of people, whether those groups are defined socially, economically, demographically or geographically or by other means of stratification". The government of Canada refers to health inequalities as differences in the health status of individuals and groups.
Healthy public policy is explicitly concerned with health and equity in all areas of policy focusing on alleviating systemic inequities, therefore improving health outcomes for all.
How can I learn more? The healthy public policy webinar series!
Northern Health's healthy communities team is putting on a three-part webinar series during the fall of 2020 exploring different elements of healthy public policy relevant to northern British Columbia.
Each webinar will share evidence-informed information and strategies, and will create opportunities for networking and knowledge sharing among participants.
Webinar dates and topics:
Topic: How can local governments support health and housing through policy
December 8, 2020 from 10 – 11:30 am (PST) - COMPLETED
 
Topic: Active transportation during a northern BC winter
Date: TBD
 
Topic: Food security in northern BC
Date: TBD
All webinar participants will receive a gift certificate to a local food producer or organization of your choosing, in your community. This could include a gift certificate for use at a farmers market or local restaurant, or we can make a donation on your behalf to a local charity of your choice.