Who are we?
Where we live, learn, work and play impacts our health. Healthy communities are the places where multiple sectors collaborate to improve the conditions - like transportation, housing, food, the environment, and mental health - that influence our health and well-being. They are places that make it easier to make healthy choices.
Local governments play a key role in developing healthy communities. However, they cannot do it alone. The Healthy Communities team consists of three Advisors, each of whom has a regional area in which they work (Northwest, Northeast, Northern Interior).
This team supports community health partners, including local governments, community organizations and health authority members, as they undertake this important work. This is the healthy communities approach, and it is connected to a provincial strategy and accountable to the Ministry of Health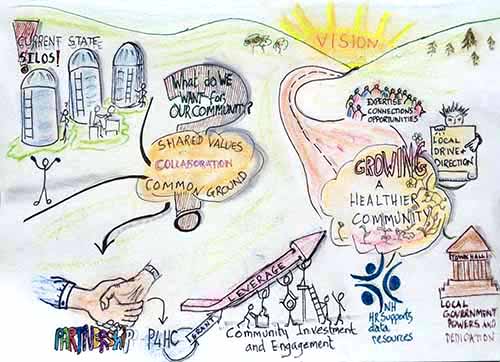 .
How we do this:
We facilitate. We are process experts. We know how to bring groups together to have meaningful conversations. Involving us means that community members can focus on generating ideas, building connections and creating action plans.
We connect. We build bridges between partners and stakeholders, connecting them with the knowledge, experience and relationships they need within Northern Health, and the northern region more broadly.
We fund. We support the funding of healthy community projects, and we connect stakeholders and partners to a wide range of other funding opportunities.