In March 2020, Northern Health began pausing research and evaluation activities, with some case-by-case exemptions.
Northern Health is implementing a multi-phase approach, in alignment with provincial requirements and public health guidance, to resume clinical services and access to facilities with a focus on safety, standards and maintaining capacity to respond to potential future waves of COVID-19.
Please see our full memo on Research During COVID-19 (PDF), our updated Operational Approval Form (PDF), and our NH Research Process Map PDF).
---
Approval process for research studies at Northern Health requires the following to proceed:
Research Ethics Approval given by Northern Health Review Committee
Northern Health Operational Approval
When the study requests disclosure of personal information (identifying or de-identified), an approved NH Information Sharing Agreement (ISA) is needed.
When the study requests to implement new technology or change existing technology, an approved NH Privacy Impact Assessment (PIA) is needed. (See below for more details).
Research ethics, operational, and other necessary approvals can be pursued simultaneously. Once the conditions for all necessary approvals are met, NH Research Ethics Board will issue the NH Authorization Letter to the principal investigator.  Only after receiving the Northern Health Institutional Authorization Letter the study can commence.
NH Research Process Map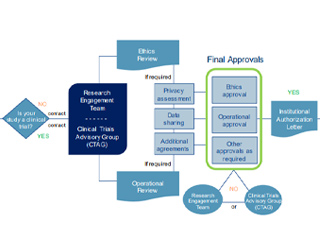 Research process map (PDF)
Northern Health logo use: Do not include the Northern Health logo on study materials unless the Principal Investigator's primary appointment is with Northern Health. Northern Health staff or clinical residents who are undertaking research for academic purposes should only use the logo of their academic institution. If the research is funded by Northern Health the logo is permitted on research materials.