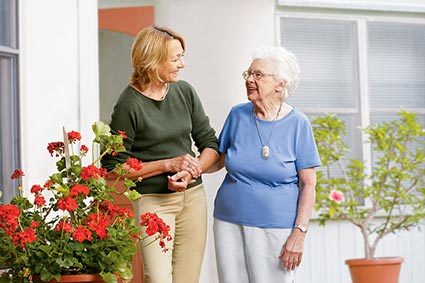 The Lifeline program may be for you, if you or a loved one:
Want to remain independent in your own home
Worry about emergencies
Have a medical condition
Live alone, or are alone, for part of the day
Lifeline is a community care supported program providing emergency response services to the residents of Northern BC.
How does Lifeline work?
If you need help for any reason, press your small, waterproof Personal Help Button. You can wear this on a neck cord or wrist-band. This sends an emergency message through your telephone line.
A trained professional at our 24hour emergency response centre will receive your signal and will be connected to your home through the telephone line.
We have your medical history, address, physician's name and list of responders (friends, family or neighbours prepared to come to your assistance). There is no need for lengthy explanations. All our equipment is "voice-capable" so even if you have collapsed on the floor you may be able to make contact with our monitoring staff. If you are unable to speak, the Emergency Response Centre staff will call one of your responders to come to your home.
In the event of an emergency, an ambulance, the police or the fire department will be dispatched - all within minutes of your signal for help.
Who benefits from Lifeline?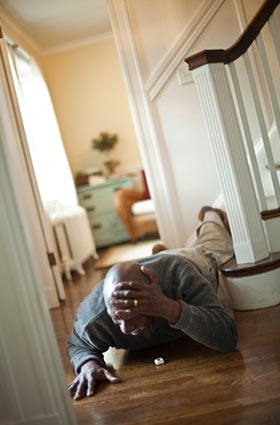 Physically disabled persons
People with chronic medical conditions such as diabetes, M.S. or heart disease
Post-operative or rehabilitative patients who want to maintain a link to medical assistance after returning home from the hospital
The fragile elderly
Seniors who live alone or are alone for part of the day
People who are concerned about their safety or security and want personalized assistance (i.e. people in at-risk relationships, care staff working in at-risk work places, such as detention facilities, hospitals, group homes)
Women in high-risk pregnancies, with multiple births or with babies that have had apnea spells
Lifeline provides safety, security and independence to individuals who might otherwise be unable to continue living in their own homes, surrounded by the things they love. Family members have peace of mind knowing that their loved-one can easily get help should an emergency situation arise.
How much does Lifelife cost?
$55 one-time administrative fee when a subscriber joins the program.
$46 monthly monitoring fee.
If you need Lifeline but are unable to afford the monthly monitoring fees, we do have limited Home and Community Care hardship waiver applications available for individuals who meet the program's sponsorship criteria.
There is no commitment to remain on the program for a set period of time. Lifeline equipment is not sold to individuals as it is very expensive to purchase and maintain.
Auto-Alert service costs
$55 one-time administrative fee when a subscriber joins the program.
$56 monthly monitoring fee.  
How do I access Lifeline?
Prince George: 250-645-3758
All other Northern Health communities: 1-800-851-0184
We can take your medical information, address, responder information, etc. over the phone and arrange a time to install the LIfeline equipment in your home.
We come to your home to connect the equipment and provide you with a demonstration of how it works.
Feel free to consult your physician or community care worker about Lifeline. Our program enjoys a good working relationship with health care professionals throughout Northern Health.
FAQs
Does Lifeline prevent me from using my telephone? 
No. Installation of the Lifeline unit does not prevent you from using your telephone to make any of the long distance or local calls you normally make. It does not impact your phone bill in any way. 
Is any special equipment needed before Lifeline can be installed?
A telephone line and a phone jack connection are the only items required for Lifeline to be installed. You must not be on a party-line. 
How long must I subscribe to the program? 
Lifeline is a not-for-profit program. Our goal is to provide a safe and secure environment for individuals who are potentially at risk but wish to continue living independently. There is no obligation to remain on the program if your circumstances change and you no longer need to subscribe to Lifeline. 
How long does it take to get Lifeline installed? 
There is no waiting list for Lifeline. Once an application has been received we can generally install the equipment within two business days. 
I am a healthy senior but my spouse has a health problem. Is Lifeline available to couples? 
Yes, two individuals at the same residence can both wear a Lifeline button, which can be programmed to the same unit. If one individual is out shopping or at an appointment, there is no need to worry about your spouse getting assistance should an emergency arise. With Lifeline, help is available at the press of a button. 
Will I get charged extra if I accidentally press my help button? 
No, there is no extra fee for usage. In fact, we expect our subscribers to "test" their Lifeline unit once each month as part of our program's comprehensive Quality Management Program. 
I have a large yard. Will my button work outside if I'm in the garden? 
Yes, your personal help button has a range of approximately 400 feet, so for most subscribers the Lifeline will work throughout their entire yard.