Breastfeeding and breast milk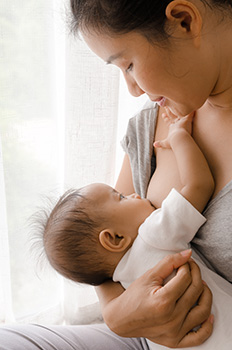 Breastfeeding is the optimal way for a mother to feed her baby. Northern Health supports the following recommendations from Canadian health organizations:
Exclusively breastfeed infants for the first six months of life (i.e., the infant only receives breast milk without any additional food or drink unless medically indicated);
Introduce complementary, iron rich, solid foods and other fluids around the age of six months;
Continue to breastfeed for up to two years and beyond; and
Infants and toddlers who receive any amount of breast milk be given a daily liquid vitamin D supplement of 400 IU (10 mcg).
This webpage offers a variety of resources about breastfeeding and breast milk for mothers, families, and community partners.
It can be helpful to discuss information found online with health care providers.
We encourage mothers and families to bring copies of information to their appointments, to discuss, and get answers to questions.
Support for breastfeeding
Breastfeeding is a learned skill, one that mothers and babies can master with time, patience, and practice. A little support goes a long way! Women can benefit from support from their families, spouses, and peers. The HealthyFamilies BC blog article "Why it's important for everyone to support breastfeeding" provides five examples of what you can do to help.
If additional support is needed, there are also professional and community-based supports available.
Professional support
Primary and community care interprofessional teams
Contact Northern Health to connect with a Lactation Consultant

Specialized breastfeeding support
In-person, telephone, and email support for clients throughout Northern Health
Phone: 250-565-2327
Hours: Monday to Friday from 8 am to 2 pm

HealthLink BC

Basic breastfeeding support from registered nurses
Call 8-1-1
If 8-1-1 does not work in your area, call 1-604-215-8110 (this applies to Fort Nelson, Dease Lake, Telegraph Creek, and anywhere else served by NorthwesTel)
Partner, family and peer support
Resources for breastfeeding
Interested in learning more about breastfeeding? This extensive list of resources is a great place to start!