What is accreditation?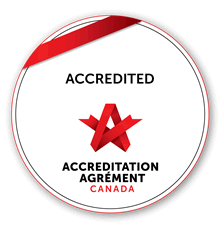 Northern Health participates in accreditation to assess our services against national standards. They identify what we are doing well and any improvements needed. The assessment is administered by Accreditation Canada. Quality is a key element of Northern Health's Strategic Plan and accreditation is one way we maintain a culture of continuous quality improvement.
How does accreditation work?
Northern Health participates in the four-year Accreditation Canada process. This measures the success of quality and safety programs and shows our commitment to patient safety. Due to our large size, we have two site visits in the four-year cycle. Different departments participate in each visit.
Northern Health staff and physicians regularly prepare for accreditation surveys by completing self-assessments. National experts, known as surveyors, assess the quality of care we provide to patients, clients, and residents.
How can I tell if a facility is accredited?
The Accreditation Canada seal is proudly displayed in Northern Health facilities. This means we are working hard to meet Accreditation Canada standards to deliver safe, high-quality care. Better quality means better health.
The next accreditation survey is in 2020. It focuses on primary and community care and population health services.