What is accreditation?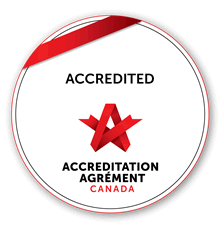 Northern Health participates in accreditation to assess our services against national standards. They identify what we are doing well and any improvements needed. The assessment is administered by Accreditation Canada. Quality is a key element of Northern Health's Strategic Plan and accreditation is one way we maintain a culture of continuous quality improvement.
How does accreditation work?
Northern Health participates in the four-year Accreditation Canada process. This measures the success of quality and safety programs and shows our commitment to patient safety. Due to our large size, we have four site visits in the four-year cycle. Different departments participate in each visit.
Northern Health staff and physicians regularly prepare for accreditation surveys by completing self-assessments and engaging in quality improvement activities. National experts, known as surveyors, assess the quality of care we provide to patients, clients, and residents. This assessment includes an onsite evaluation where surveyors will engage with Northern Health staff, physicians, clients/residents/patients, families, and community partners.
How can I tell if a facility is accredited?
The Accreditation Canada seal is proudly displayed in Northern Health facilities. This means we are working hard to meet Accreditation Canada standards to deliver safe, high-quality care. Better quality means better health.
Northern Health was awarded an Accredited status from the June 2023 assessment. The current accreditation process is a four-year cycle, with a new status awarded in 2026. The following Accreditation Canada onsite surveys planned as part of our continuous improvement to quality of care:
2023: Governance, leadership, and emergency and disaster management - completed
2024: Acute care services
2025: Long-term care services
2026: Primary and community care and population health services
Current accreditation results
Northern Health maintained 'Accredited' status following the onsite survey by Accreditation Canada in June 2023. Surveyors visited 9 sites, and engaged with staff, physicians, clients, and community partners. It is a significant accomplishment, Northern Health teams met 99.5% of the over 480 criteria assessed.
A snapshot of the last Accreditation cycle results by Quality Dimension; these dimensions are the basis of the standards and each criteria in the standard is tied to a dimension. Reviewing all dimensions give an overall picture of what high quality health care program or service is like.
Quality Dimension
Prior cycle
Prior cycle
Percentage of criteria met current cycle 2023-2026
 
Percentage of criteria met 2018
Percentage of criteria met 2022
Percentage of criteria met 2023
Areas assessed
2018 - Governance, Leadership, Acute Care Services, Long-Term Care Services over 22 service locations
2022 - Primary and Community Care and Population and Public Health over 20 service locations
2023 - Governance, leadership, and emergency and disaster management, infection prevention and control and medication management over 9 locations
Accessibility (give me timely and equitable services)
95%
98%
100%
Appropriateness (do the right thing to achieve the best results)
94%
91%
99%
Client Centered Services (partner with me and my family in our care)
96%
98%
100%
Continuity of Services (coordinate my care across the continuum)
97%
98%
100%
Efficiency (make the best use of resources)
90%
89%
100%
Population Focus (work with my community to anticipate and meet our needs)
100%
93%
100%
Safety (keep me safe)
93%
92%
99%
Work life (take care of those who take care of me)
94%
92%
100%
Areas of excellence identified by onsite surveyors in the 2022 and 2023 assessments include:  
Commitment to innovation and collaborative partnerships.
Our response and preparation for emergency responses.
Well integrated teams concentrating on access to care with services focused on a client-centered practice promoting health and wellness.
Strong interdisciplinary teams who are compassionate and dedicated to the care of clients and families.
Robust community and First Nations engagement, relationships, and partnerships.
Commitment to supporting staff with professional development and recognition.
Quality improvement initiatives at the regional level with an organizational scorecard.
COVID 19 response: Testing, immunization, & outbreak containment.
Areas of improvement identified in the 2022 and 2023 assessments include:
Continue to embed a person family centered approach to services across the organization. This includes seeking client, family, and community input in services to strengthen programs and services.
Access to services for clients and addressing health human resourcing impacting services.
Transition of clients between Northern Health communities and sharing of information.
Consistently apply the required organization practices.
The opportunities identified as part of the 2022 onsite survey have been internally reviewed by leadership and teams, plans in place to address any follow-up as part of the required progress report to Accreditation Canada. Teams across Northern Health are completing audits and checklists, completing local improvements.
Broader quality improvement activities are underway to make system improvements to suicide prevention, improving information transfer as clients move between facilities and communities, and continued efforts to address health human resources.
Looking forward Northern Health teams prepare to welcome two surveyors in June 2023 as part of our next onsite surveyor evaluation of governance, leadership, emergency and disaster management, infection prevention and control and medication management.
Northern Health accreditation summaries
Additional resources