Who are we?
Where we live, work, learn and play impacts our health. Northern Health's Healthy Community Development (HCD) team supports local governments, community partners and stakeholders around health to:
Identify their own needs and priorities;
Coordinate efforts and resources;
Formalize partnerships; and,
Access facilitation, granting and education opportunities.
What we do:
Serve as a conduit: we work with local health leadership in communities and connect them to the leads and/or resources of the Population Health programs. This can be from responding to a local request for information, to supporting local policy development. Population Health Programs include: Nutrition, Physical Activity, Injury Prevention, Tobacco Reduction, Mental Wellness and the Prevention of Substance Harms, Dental, Healthy Schools, and Healthy Community Development.
Support planning from ideas to action: we provide group facilitation support to local heath leadership in their work to identify and catalyze action towards addressing community health priorities.
Provide the larger picture: if a local leader or community partner requests support to understand setting-based health promotion initiatives, we can work with them to provide a baseline understanding of the issue and broader literature or current case studies. We can then also help to find ways to bring these ideas towards meeting local needs.
Provide a link to funding opportunities: We share information about external grants and deliver our own internal IMAGINE grants. Since 2009, we have granted more than $2.2 million to northern BC communities. View our successful grant recipients map.
There are 3 Healthy Community Development Leads in the HCD program who each have a health service area based portfolio. They work closely with Northern Health Leadership and programs, as well as community level partners and groups, to support healthy community development functions in communities.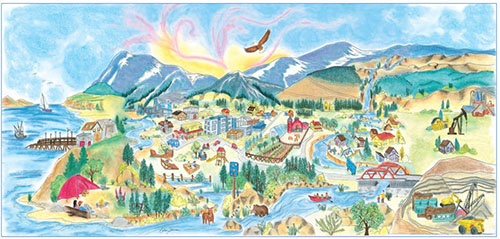 Partnering for Healthier Communities (P4HC)
Building healthier northern communities requires sustained effort to address chronic disease and injury, yet it is the responsibility of many sectors. This effort requires effective partnerships and collaboration across communities. This is Northern Health's P4HC approach.
Many local governments and community stakeholders are leaders and promoters of healthy living, and play a pivotal role in developing health-promoting settings and communities where they live, work, learn and play. Building on this momentum, Northern Health, through the P4HC approach, fosters partnerships with local governments and community stakeholders to further strengthen and our relationships and work collaboratively towards building healthier northern communities.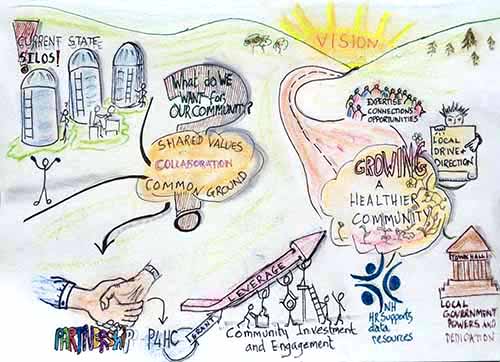 One outcome of the P4HC approach has been the establishment of P4HC Committees across the north. These committees are co-chaired by local government and Northern Health, and have multi-sectoral partnership. Through the development of a common vision and a goal of a healthier community, these committees develop initiatives that are based on locally identified priorities.
Healthy Community Development
1788 Diefenbaker Drive
Prince George, BC V2N 4V7
Phone: 250-645-6348
Fax: 250-612-0810
Email: healthycommunities@northernhealth.ca
Partnering for Healthier Communities Resources
Northern Health Active Communities Grant
Active Communities grants are a one-time funding opportunity supported through the provincial Ministry of Health's Active People, Active Places Physical Activity Strategy. The aim of the Strategy is to support and provide access to physical activity for individuals and families in communities across the province.
Through this funding, the goal is to strengthen community relationships and capacity through multi-sector partnerships for physical activity planning. Funds are available from $20,000 to $30,000 per project.
Learn more about this opportunity and successful projects.