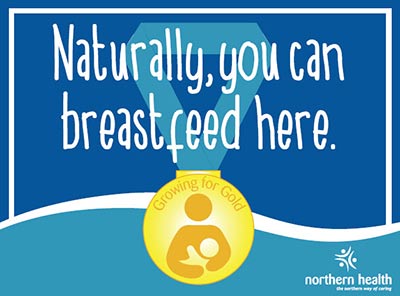 Northern Health is committed to support breastfeeding-friendly environments across northern BC. The Growing for Gold program aligns with this commitment by promoting organizations that want to publicly share their commitment to support breastfeeding.

To take part in the program, your organization can request, receive, and proudly display the Growing for Gold decal in your window.
Email us at NHBreastFeeding@northernhealth.ca if you have any questions.
Why support breastfeeding
How can your organization support breastfeeding
Some mothers may experience discrimination when breastfeeding in public. By displaying the Growing for Gold decal in your organization's window, you are showing a welcoming attitude and support for breastfeeding.

As well as receiving additional attention from pedestrians due to the decal, your location will be featured on Northern Health's list of breastfeeding-friendly locations. This list is regularly promoted through Northern Health social media, helping to make your organization a destination for young families today and into the future.
Breastfeeding-friendly organizations
Burns Lake:
Dawson Creek:
Endako:
Fort Nelson:
Fort St. James:
Fort St. John:

Community Bridge
Cool Beans Cafe
Friendship Center
Urban Systems Ltd.
Homesteader Health Foods

Fraser Lake:
Hazelton:

Starting Smart
Hazelton Community Services

Hudson's Hope:

District of Hudson's Hope

Kitamaat Haisla:
Kitimat:
Mackenzie:

Counselling Services
Public Library

Prince George:

Central Interior Native Health Society
Earthside Doula Services
Margo's Cafe
McDonald's Prince George
NH Pediatric Ambulatory Care Clinic
Phoenix Medical Imaging
Play Grounds Cafe
Public Library
Library - Nechako Branch
P.S. Pianos
Sun Life Financial
The Exploration Place

Prince Rupert:

Pregnancy Outreach Program
Birth Support - Doula
Public Health Unit

Queen Charlotte:
Quesnel:

Public Health Nursing
Child Development Centre

Smithers:

Little Beginnings Licensed Family Daycare
Telegraph Creek
Tahltan Head Start
Smithers Public Library
Pitter Patter Boutique

Telkwa:

Telkwa General Store & Cafe

Terrace:

Public Health Unit
Women's Resource Centre Society
New Age Insights
Growing for Gold resources