Project Overview
Once complete, the new Atlin Health Centre will be 236 square metres (2,540 square feet) in size and continue to provide the care services that are currently provided to the community and region. The replacement facility will be located on the corner of Atlin Road and Discovery Avenue, across from the BC Hydro plant.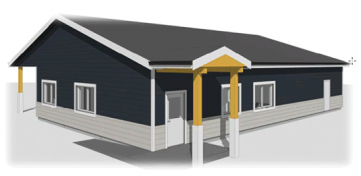 Project Story
Planning for a new health centre in Atlin has been underway for some time now, with good work conducted by dedicated residents and Northern Health and First Nations Health Authority staff.
After having been placed on temporary hold, plans for rebuilding the Atlin Health Centre have resumed and a contract for construction has been awarded.
While on hold, additional consultation was conducted with First Nations Health Authority, Taku River Tlingit and the Atlin Supportive Living Society to reach accord with next steps in ensuring the project plans would meet expectations and desires of community within our service model.
Project Updates
August 2019
On August 22, 2019, local Atlin contractor, Pine Tree Services, will break ground at the site and begin excavation and site preparation for the new Atlin Health Centre. The modular units that will make up the building itself will be in transit towards Atlin in September.
July 2019
ATCO Sustainable Communities Inc. Modular Construction has been awarded the contract for the construction of the new Atlin Health Centre.
The new Atlin Health Centre will be 2,540 square feet. This new, expanded space will improve on the continued provision of all services the community currently receives.
The foundation for the new health centre will be laid by late summer, 2019 with construction to follow. NH is optimistic that an initial redevelopment of the AHC to carry out its core functions can be completed by winter 2019/20.
Capital Advisory Committee
Northern Health is pleased to continue to meet with the Advisory Committee after procurement and during the construction phases of the redevelopment, so we can keep the community apprised of project progress.
Contact Information
For more information regarding capital projects at Northern Health, email: hello@northernhealth.ca.
Are you a member of the media? Call Northern Health's media line: 250-961-7724